Do you get stressed when driving in a city?
Driving in a city can be a daunting experience for many drivers. There is usually more traffic and one-way streets to contend with and you need to be aware of pedestrians and cyclists crossing your path. But there are ways to make your car journey easier…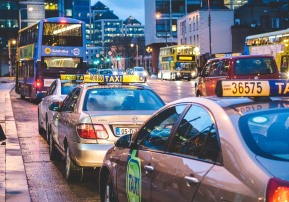 Plan your route before you depart
Driving in an unfamiliar area can be difficult for some drivers. This may cause you to miss your turn or take the wrong exit. Not only can this increase your stress levels, but it can also lead to dangerous driving if you're trying to figure out your route while driving. By planning your route beforehand, you can familiarise yourself with your exit points and turn-offs before you set out on your car journey. 
Give yourself enough time
If you're driving in a city you'll usually encounter more traffic than you would on a rural road. By gibing yourself enough time before you set off on your journey, you can reduce your stress levels. Drivers who are stuck in traffic often take unnecessary risks such as breaking traffic lights, increasing speed or driving erratically.  If you want to get an idea of how long your journey will take you, there are free apps and websites available such a Google Maps which give you your the estimated time of arrival. 
Stick to you lane
Don't keep switching lanes to speed up your journey. Usually in the long run, traffic times in each lane will even themselves out. Constantly switching lanes increases your chances of being involved in an incident. If you're driving on an unfamiliar route, look out for early road signs that will indicate which lane you need to be in instead of making last minute switches. 
Avoid Rush Hour
If possible, avoid driving in rush hour traffic. Traffic in Ireland increases a lot between 7am to 9am and 4pm to 7pm. In recent years, the length of busy periods on urban roads has increased. If you're driving during rush hour, you can expect long delays and a higher risk of being involved in a road incident.  
If you have a car on the road, call KennCo for a car insurance quote today on 0818 25 20 25.