In KennCo, we have an in-house claims team, including specialist handlers for first notification of claims. When it comes to windscreen claims we are partnered with Mr Windscreen, who deal with our customers who need to make these specialised claims. Along with Mr Windscreen, we recently took a deeper look into our customer's claims related to windscreens and the categories of damage that occur most frequently during 2020. It may surprise you to hear that when it comes to car insurance, roughly half of KennCo claims are Windscreen claims.
The results were interesting to see with 90% of damage being caused by Stone/Debris/Branch and 4% to the category vandalism. Interestingly, 4%  were put into the unsure category. Unsurprisingly, the front windscreen was the most claimed for with 82% of claims related to this glass type.
See our full infographic below, you may be surprised at some of the figures. If you found this interesting feel free to share on social media with your friends and family.
Please include attribution to www.kennco.ie with this graphic.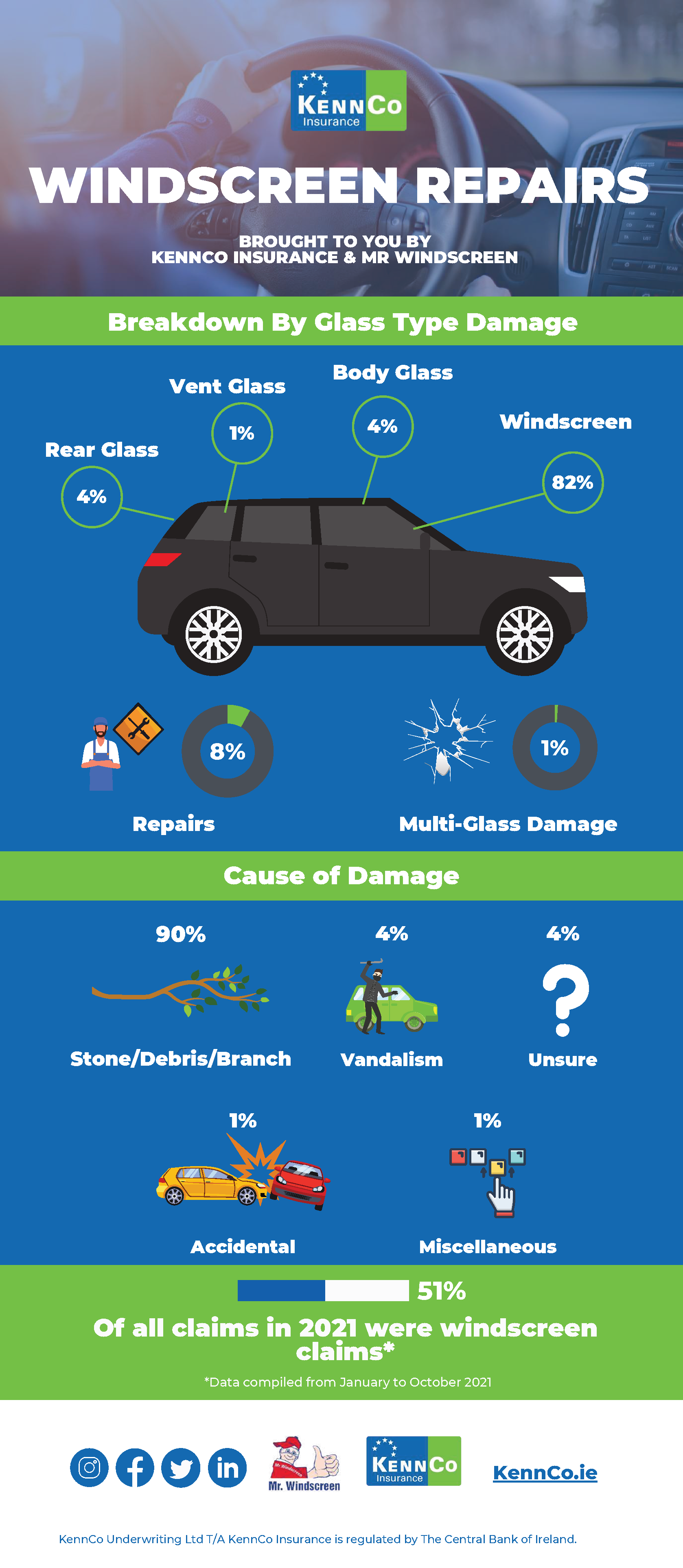 If you need to make a windscreen claim, all our contact numbers are on the contact us page.
To make a claim you can take the below simple steps:
Call

 014994600 and select option 2

An agent will take all your incident details including date and cause of damage. You will need your policy number, make, model and registration number of your vehicle to hand for this call.
An agent will validate your claim and will send you to our partnered repairers.
Our Comprehensive KennCo car insurance policies have windscreen cover included as standard, with our approved repairer. KennCo will cover accidental damage to the insured vehicles windows and windscreen. As our customer, you can claim for one windscreen claim within your period of insurance and your no claims bonus will not be affected.