You have completed your 12 EDT lessons and applied for your driving test. While you are waiting for your test date you can prepare yourself and your car with our driving test checklist. Don't leave it until the last minute, the more prepared you are the more comfortable you will feel on the day.
Driving Test Checklist to pass on the day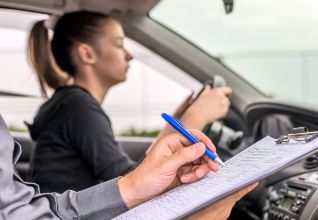 After completing your 12 EDT lessons you should book your driving test online with the RSA. Currently, the RSA has said the national wait time for a test date is 6.2 weeks so it is important to plan when you would like to carry out your test. In some instances, you can apply for a short notice test date but these can be hard to get. When you have received your test date you should make sure you have the below in order before the morning of your test:
The documents you will need for your test include your current learner permit licence.
The vehicle you are sitting your test in must display a valid NCT, tax disc and insurance covering you to drive the vehicle. You may use your instructor's vehicle or a vehicle you are insured to drive for the test.
L-plates should be clearly displayed on front and back of the vehicle
The vehicle you are sitting your test in must correspond with the driving licence category you are taking the test for. This includes taking the test in an automatic car meaning your licence will be for automatic cars only.
The vehicle should be roadworthy, in working order and car should be clean inside and out.
If you feel extra nervous you can take a pre-test with your instructor before taking the test.
Arrive on time for your test and wait in the waiting area.
Some people don't even make it out of the driving test centre on the day of their test. RSA states that there is a high percentage of driving's tests not carried out due to a range of reasons below:
Candidate does not bring the required documents
Vehicle presents a fault at test centre
Candidate does not show up for the test
Candidate is late for the test, arrives at the wrong time slot or at the wrong test centre
If any of the above happens to you on the day of your test, you will have to re-apply and pay to do the driving test again! If you need to cancel your test you must do so 10 days prior to your test date and not more than twice.
Doing your driving test – What will the instructor ask me during the test?
The driving test will test your knowledge of:
The rules of the road
Drive with regard and safety of other road users ie: cyclist, other vehicle types and pedestrians)
Present the ability, skill and knowledge of how to drive competently with the rules of the road.
The test will take approximately 30- 40 minutes and will include:
Questions on the Rules of the Road (including identifying road signs)
Demonstrating hand signals
Reversing round a corner
Turnabout manoeuvre
A hill start
Driving approximately five miles in a variety of road and traffic conditions
The areas your driving will be assessed on will match with the skills you leaned during your EDT lessons including:
Speed
Progress
Road Positioning
Maintaining proper control of vehicle
Overtaking and passing other road users
Use of mirrors and signals
Demonstrate anticipation, awareness and observation
Traffic lights use and compliance
Use of vehicle controls correctly
Road signs and road markings



What happens after I finish my test?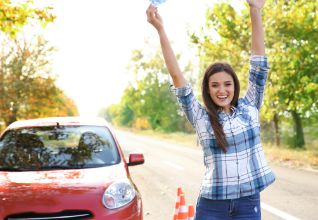 When you have safely parked the car you and the driving examiner will return to the test centre to give you the results. If you pass you will be given a certificate of competency which allows you two years to apply for your full Irish driving licence. If you allow the two years to pass without applying for the full licence you will need to take your driving test again. During this 2-year time period, you must drive with N plates on your vehicle. If you fail your test the examiner will give you a detailed list of the mistakes made. You can use this list to continue practising you're driving and/or take some additional lessons before re-applying for your driving test.
Driving Test FAQ
How do you find your driver number?
Your driver number can be found at 4d on a plastic license or permit or 5a on a paper license or permit.
Can I cancel my driving test if I'm not ready?
Yes if you don't feel confident or can't sit the test you may cancel it or reschedule it and make a new booking. 
Do I need to bring my own vehicle to a driving test?
You are required to bring a vehicle to your driving test. The RSA will not provide a vehicle for you. You must be insured on the car you bring with a motor tax disc and NCT if required. This may be your own car or family members. Your Approved Driving Instructor (ADI) may also hire out their car for you if is not booked up. We recommend you take a car you have practised a lot with.
If you are only starting the process of learning to drive then our blog on Preparing for Your Driving Test – where you should start. If you are looking for your first-timecar insurance we have launched new and improved rates for young drivers. Get a quote online or call 014092600 and one of our agents would be happy to do a quote over the phone with you.