Car Windscreen Cover
It happens to most car drivers at some stage. You're driving along, minding your own business, when a truck full of gravel zooms by and cracks your car's windscreen. We don't know why truck drivers don't just cover their trailers, but what we do know is that it's not a pleasant experience. Apart from having to endure that unnecessarily loud scream of fright from one of your passengers (there's always one), there's that stress of wondering whether that crack is going to expand out across your screen, shatter the whole thing or how much it will cost to fix it. That's where windscreen cover steps in.
You'll be glad to know that nearly all windscreens nowadays as designed to shatter instead of smashing into sharp pieces of glass. This means that if your windscreen does become fully shattered, you aren't likely to be cut or hurt. The chances of your windscreen totally shattering are actually quite low. In most cases, if a heavy object hits your windscreen, it will chip in one area without spreading out.
Windscreen Repair or Replace?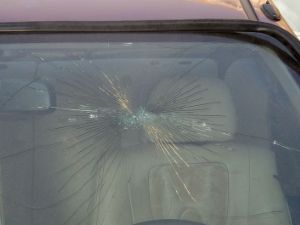 Having a crack on your windscreen doesn't always mean that you need to get a new windscreen. Windscreen repair companies claim to be able to repair your windscreen without replacing it if the crack is smaller than a €2 coin and not too close to the edge. Repairing a windscreen can be completed in about 30 mins so it is much more time and cost-effective to repair instead or replace.
What's Covered?
Of course, it is not always possible to repair your car windscreen. In some instances, a full replacement is necessary. If you window has a large crack, it's better to get it repaired, sooner rather than later. Most drivers aren't aware that their windscreen also supports the roof of their car and is an important protective feature of a car. Below are the answers to queries you may have regarding replacement.
Is windscreen cover included with my car insurance policy?
KennCo pay for accidental damage to your car's windscreen or windows if you have comprehensive car insurance
Will my No Claims Bonus be affected?
Once you are only claiming for damage to windows, you no claims bonus will not be affected.
Is there a limit to the amount of times I can make a windscreen claim?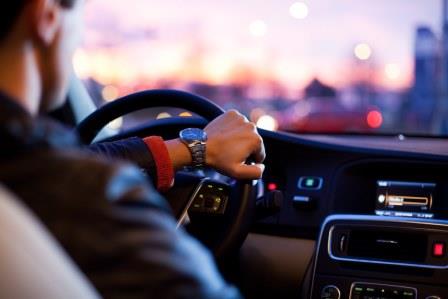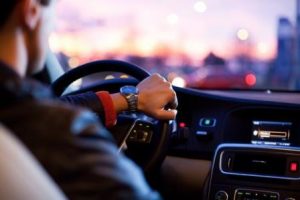 There is no limit on windscreen cover if: In any one Period of Insurance the windscreen or window is replaced or repaired by our approved supplier. Otherwise, the maximum amount we pay is €100 in any one Period of Insurance if any other supplier carries out the repair or replacement.
Windscreen Maintenance Tips
Wipers:Check and clean your wipers regularly. A buildup of sand and dirt can scratch your windows which results in poor visibility.
Ice Removal:Only use purpose made ice scrapers. Believe it or not, spatulas and CDs aren't the best option and can actually damage your windscreen.
Use deicers to remove ice instead of hot water. Hot water poured on ice cold windows is never a good idea.
Keep your distance from the car ahead if you're driving on a road with loose chippings.
In KennCo, we have an in-house claims team, including specialist handlers for first notification of claims. When it comes to windscreen claims we are partnered with Mr Windscreen, who deal with our customers who need to make these specialised claims. Along with Mr Windscreen, we recently took a deeper look into our customer's claims related to windscreens and the categories of damage that occur most frequently during 2020. It may surprise you to hear that when it comes to car insurance, roughly half of KennCo claims are Windscreen claims.
The results were interesting to see with 90% of damage being caused by Stone/Debris/Branch and 4% to the category vandalism. Interestingly, 4% were put into the unsure category. Unsurprisingly, the front windscreen was the most claimed for with 82% of claims related to this glass type.
See our full infographic below, you may be surprised at some of the figures. If you found this interesting feel free to share on social media with your friends and family.
Please include attribution to www.kennco.ie with this graphic.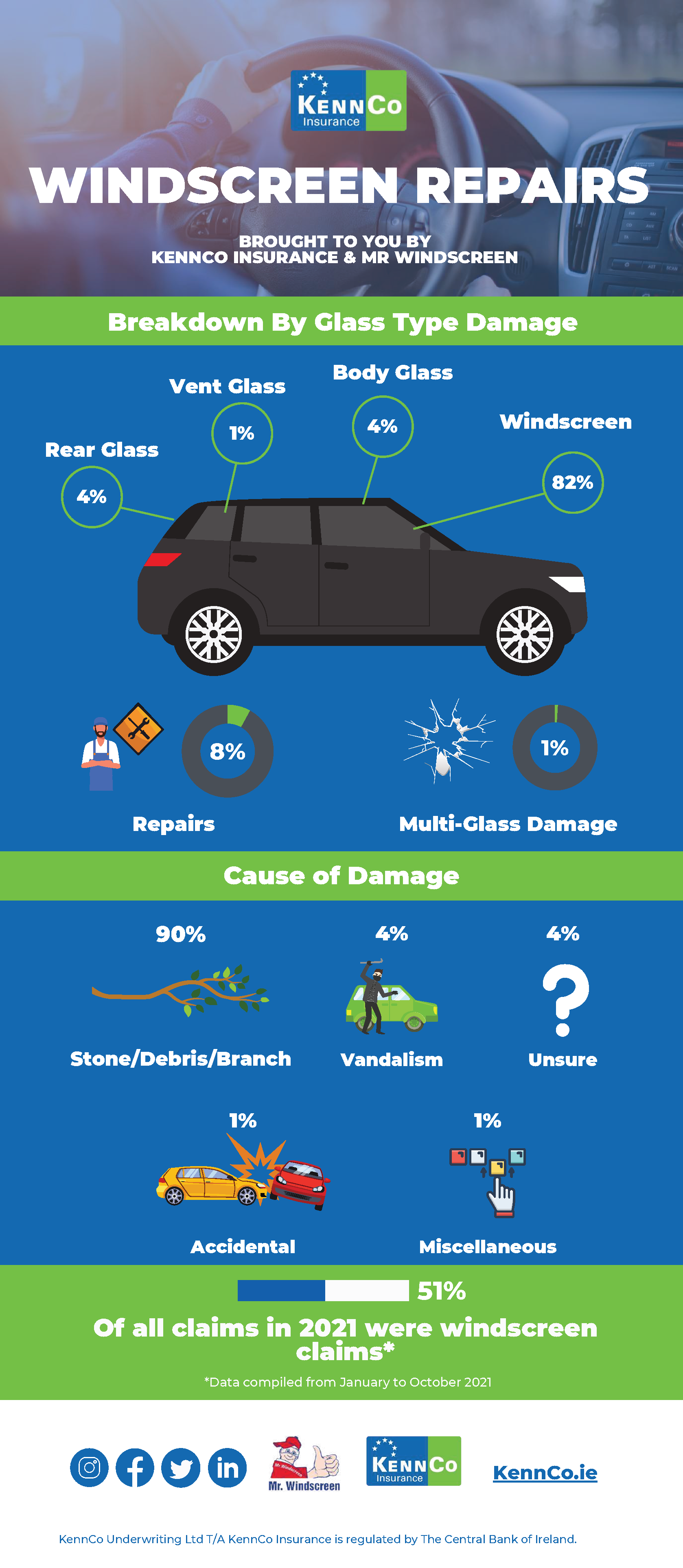 Tips to Protect Your Windscreen
The windscreen is one of the most essential parts of a car. You should treat it with all the care and attention it needs. Keeping your windscreen protected should be top of your list when maintaining your car.
Windscreen glass is manufactured differently than regular glass. It is constructed this way so that in the event of an accident, it doesn't shatter like the glass in your home. It is a far more durable glass than others. For this reason, the glass may not chip or crack when a pebble hits it, although it is possible.
Your windscreen is not indestructible. Damage can occur if you have the vehicle for an extended period. Damage to your windscreen is a hazard and can obstruct your driving. If your crack is bad enough, driving may even be illegal. Although it may be impossible to prevent cracks and chips in your windscreen at all times, such as during a storm or a rock hitting your car, there are some steps you can take to reduce the risk of windscreen damage.
We all have to take care of our windscreens as effectively as possible for the safety of ourselves, our families and other road users.
Here are some tips to protect your windscreen.
Stay Safe When Driving in Gravel
We all may face a gravel road once in a while, especially when heading out to the more rural areas in Ireland. These roads tend to be rough and loose, which is a nightmare for windscreens. It can cause havoc for both your car and its windscreen. When you face this gravel road, you shoudl slow down considerably as it can reduce the risk of gravel flying up. These pebbles can chip or crack the windscreen. You should keep an extra safe distance from the car in front of you. Typically, pebbles can get lodged in their tyre and hurl them at your windscreen at full speed. Keep the speed down and give lots of room from other cars. Keep your vision and your windscreen safe with these precautions.
Keep an Eye on Temperature Changes
Your windscreen will both expand and contract due to temperature changes. Extensive heat on your windscreen will weaken the glass over time. It may not be such a big issue in Ireland, but with the warmer summers we've been having, why take the risk? Park in the shade to avoid direct sunlight on the car.
This also goes for putting hot water on your frosty car in the colder months. Never pour boiling hot water over the windscreen. The extreme change in temperature could cause the windscreen glass to crack. You should always use lukewarm water to pour over your icy windscreen.
Window shades are helpful but will not protect your windscreen from the sun. What they do instead is protect the dash and interior from any sunburn.
Repair Chips ASAP
People tend to be easygoing when seeing a small chip on their windscreen. They may think it's tiny, so it can't cause much harm. This is the wrong attitude to take. When your windscreen has a chip, it will grow bigger and bigger until there's a proper crack in your windscreen.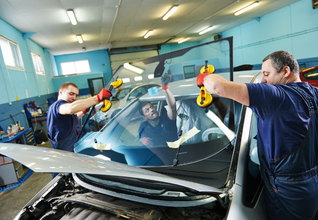 To avoid this, get it fixed as soon as you can. It will cost you considerably less to fix a chip than to replace a whole windscreen down the line. 
Replace Windscreen Wipers 
If you notice that your windscreen wipers are struggling to push away water on the glass, you need to look at getting a replacement. The wipers will lose their shape over time and pressure certain areas on the windscreen. Broken or poor windscreen wipers won't exactly damage your vehicle but will reduce the strength o your glass over time.
Don't Use Chemicals
A common mistake drivers make is using lots of chemicals to clean their windscreens. You may think you're doing the right thing, but ultimately, you're not. Why's that? Well, using harsh chemicals lead to colour fading and discolouration. It can even strip away the protective coating on your glass. You don't need to be using any fancy chemical sprays. All you need is a vinegar and water combination. This will help clean your windscreen.
These chemical sprays are harmful to your windscreen because they contain ammonia. Ammonia dries out both vinyl and plastic. It could cause severe damage to your glass.
Treat Your Vehicle With Care
In times of anger, we may take our frustrations out on the car. We may slam a door or hit an object. Don't do this. Treat your car with care.
If you slam your door, it could weaken the glass due to the shockwaves it sends. Once or twice, the glass will withstand, but it could cause big problems down the line if you keep slamming the doors. Children are also prone to slamming the door so just make sure they're closing it gently.
If you need to make a windscreen claim, all our contact numbers are on the contact us page.
To make a claim you can take the below simple steps:
Call

014994600 and select option 2

An agent will take all your incident details including date and cause of damage. You will need your policy number, make, model and registration number of your vehicle to hand for this call.
An agent will validate your claim and will send you to our partnered repairers.
Our Comprehensive KennCo car insurance policies have windscreen cover included as standard, with our approved repairer. KennCo will cover accidental damage to the insured vehicles windows and windscreen. As our customer, you can claim for one windscreen claim within your period of insurance and your no claims bonus will not be affected.
If you have a crack in your windscreen and new a replacement, call us today on the relevant below number. We'll have you car back on the road in no time!
Calling from Ireland: 01 499 4600 (select option 2)
Calling from outside Ireland: 353 1 499 4600