Learning to drive can be an exciting time in your life. To most, it means freedom and independence. There are some strict laws you must follow when learning to drive. If you don't follow them, you may get penalty points, a fine or worse. Having L Plates on your car is one such law you must follow. 
What Are L Plates?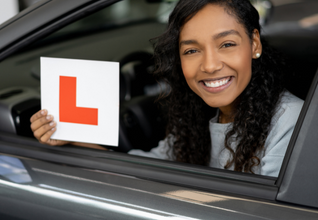 L Plates are square plates or stickers with a white background which displays the letter L in red for a learner. It must be applied to both the front and rear of your vehicle. The L plates tell other drivers that you are learning to drive and haven't passed your test. It is hoped that other drivers will be more patient with learner drivers if they take time to turn or stall the car. However, some drivers may do the opposite.
Ensure you buy the correct L plates, which should be at least 15cm high and have a border of 2cm. It also must be a red L on a white background. You may have seen some stickers with just a red L which is not legal. 
What Drivers Need to Display L Plates
You must display L plates on your car if you have yet to pass your driving test. You should have one at the rear and one at the front, as stated. 
For those learning to drive a motorbike, you must wear a high-vis jacket which displays the letter L in red with a white background. It should also be displayed on both the back and front of the vest/jacket. 
What Happens if I Don't Display L Plates?
You are required by law to have L plates on your car at all times when you're a learner driver in Ireland. Failure to do so is an offence. You could receive two penalty points and a fixed charge of €120, which can be increased if not paid in time. 
Avoid these penalties by applying for your L plates as soon as you're a learner driver and getting behind the wheel. We also recommend having a spare set of L plates in your car if one breaks or loses its adhesiveness.
L Plates Ireland FAQs
How long do I have to display L plates on my car when I'm learning to drive?
In Ireland, you must display L plates on your car for a minimum of six months while learning to drive, as this is the minimum duration you must wait to attempt a driving test. However, you must display them until you pass your driving test.
Are there any restrictions on where I can drive with L plates?
There are restrictions on where you can drive with L plates in Ireland. You are not allowed to drive on motorways. 
Can I drive alone with L plates?
If you are a learner driver with L plates, you must have a fully licensed driver of over two years accompanying you. The supervising driver should be seated in the front passenger seat. It is illegal for a driver with L plates to drive unaccompanied.
When can I take down my L plates?
You may legally remove your L plates after passing your driving test. However, you must replace them with N plates for Novice drivers. It lets other road users know you have received your driving license in the last two years. 
N plates must be displayed on your car for a minimum of two years after you pass your driving test. There are no driving restrictions, but there are stricter laws for Novice drivers. Both learner and novice drivers will face disqualification for 6 months if they receive 7 penalty points in a 3-year period.