Michael Conlan
Michael Conlan has achieved a lot at just 24 years old. He has already won gold at the Commonwealth Games, European Championships and World Championships. He also managed to secure bronze at the 2012 Olympic Games in London.
Michael's Background
Michael Conlan grew up in Belfast in a family immersed in boxing. His father is his boxing coach and his brother Jamie is also a professional boxer. In 2015, Michael became a proud father to Luisne. Michael has stated that his daughter motivates him to succeed and that he looks forward to her and his fiance Shauna, seeing him fight in Rio.
Conlan's success began at the age of 11 when he won his first Ulster novice title. He went on to become a three-time national flyweight champion. He won a bronze medal for Ireland in the 2012 Olympics in London. After beating Nordine Oubaali in the quarter finals he went on to fight Robeisy Ramirez in the semi-finals. He was defeated by Ramirez who ended up winning Gold.
Following his success in London, Michael moved from Flyweight to Bantamweight. In 2014 he won a gold medal at the Glasgow Commonwealth Games. The fact that he had only returned to training two weeks prior to the match, made the victory all the sweeter.
In order to qualify for the Olympic Games in Rio, Michael needed to compete in 7 fights over 3 months. Michael won 5 of these fights which meant he would be heading to Rio in August to represent Ireland.
Conlan achieved Boxer of the Tournament at the European Championships in August 2015 and ended up winning the tournament. Both titles had previously been held by John-Joe Nevin.
To finish off a very successful 2015, Conlan won the gold medal in the AIBA World Boxing Championships, making him the first Irish mad to do so. His achievements were honoured in December when he was named as the RTE Sports Person of the Year.
Michael Conlan Visits KennCo Insurance
Here at KennCo Insurance, we were very happy to provide Michael with car insurance for 2016. Michael commutes from Belfast to Dublin in order to maintain his strict training regime and is on the road a lot. Michael popped into KennCo's offices in Rathfarnham to collect his car insurance policy and to chat to members of staff. As he discussed his busy training schedule, his desire for gold and his trip to Rio, Michael's enthusiasm for the upcoming Olympics was clear.
His focus and enthusiasm is what sets Michael apart from his opponents. Here at KennCo, we are confident that Michael will be arriving back in Ireland with an Olympic Gold. We're sure that his success over the past two years will silence any doubters.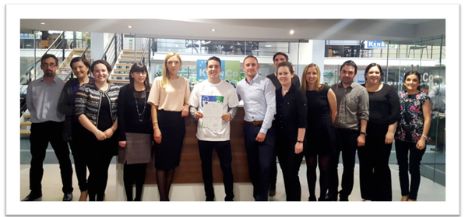 Good luck Michael from all at KennCo Insurance!!
If you'd like to learn about 8 interesting facts you didnt know about the Olmpics, click here