Kennco.ie are a specialist insurance broker in Mazda car insurance. We want our customers to know that they have the best possible insurance for their new car as a member of Kennco.ie. 
We're delighted to insure the hundreds of Mazda owners we have as our customers and be the trusted company they turn to in crisis regarding their motoring needs. 
We can insure your Mazda vehicle if it is roadworthy and legally allowed on Irish roads. Our quotations will differ based on your experience as a driver, the cost of your car, the features of your car, your no claims bonus, and how securely you store your Mazda at your residence. 
You can get a car insurance quote online 24/7. The process only takes a few minutes, and we'll be able to provide you with a Mazda car insurance quotation. 
Select your vehicle for a fast online quote
Mazda3 Hatchback 

Mazda3 Saloon 

Mazda6 Saloon

Mazda6 Tourer

Mazda CX-30

Mazda CX-5

Mazda MX-5 Soft Top

Mazda MX-5 RF

Electric Mazda MX-30
The History of the Mazda
Mazda was originally set up as the Toyo Cork Kogyo Co.Ltd. It was founded in 1920 in Hiroshima, Japan. It originally was established to manufacture machine tools. In 1931 Toyo Kogyo started making vehicles. The first vehicle they made was the Mazda-Go autorickshaw. 
In WWII, Toyo Kogyo began to produce weapons for the Japanese military. They used the Mazda-Go as their first advertising campaign. Toyo Kogyo didn't use the Mazda name till much later, but all their vehicles were under the Mazda name. 
After WWII, exports of the Mazda-Go restarted. The next vehicle that Mazda released was the Romper, a truck.
The first passenger car that Mazda released was the R360 Coupe which came in both a manual and automatic transmission.  
In 1960 Mazda developed the Wankel rotary engine. This made them unique amongst the other Japanese automakers. 
Mazda formed a partnership with Ford from 1974 to 2015. Mazda was in trouble financially, and Ford pumped money into the Japanese Automakers. A notable car manufactured in the Ford era was the Mazda Roadster. Ford sold its remaining shares in Mazda in 2015.
Mazda launched the Mazda3 in 2003. This current model is still going today and has been recently updated. 
After the Ford partnership ended, they entered a new agreement with giants Toyota. In this deal, both companies would get something that they wanted. Mazda will supply Toyota with their SkyActiv Technology, and in return, Mazda will provide them with their hydrogen fuel cell systems.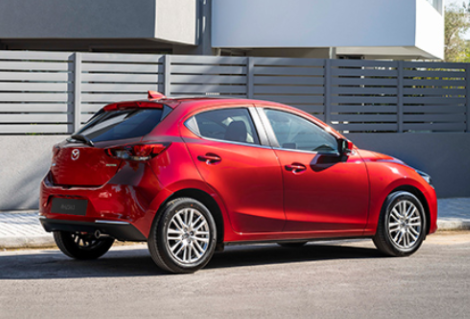 Benefits of Being a Mazda Owner
Reliability – Mazda has always received high praise from its users for being one of the most reliable vehicles on the market. It handles great and is a great choice for drivers.

Safety – Mazda has always put investment into safety. Their intelligent safety technology includes a range of driver assists to give the driver full confidence when driving.

Performance – Mazda is a brilliant performing car. You are guaranteed high performance on a low budget. They have excellent fuel efficiency and have one of the lowest repair rates.
Mazda Insurance Quote 
Kennco.ie has been helping insure Mazda owners since its establishment in 2008. We're fully committed to trying to get you the best possible insurance price for your Mazda today. Simply click here to get a car insurance quote online today.