You have just passed your theory test; congrats! It's finally time to get in the driver's seat and start driving. To become a confident and successful driver, you will need help from an instructor, family and friends. It can be quite a nerve-wracking experience, so we have curated a list of tips for learning to drive in Ireland. These essential tips will help you get behind the wheel confidently and ease those nerves as soon as possible.
1. Get comfortable with the car you're learning to drive in
Before you even hit the road for the first time, you should get familiar with all the parts of the car, such as symbols on the dash, your gears, pedals, lights and more. It will help you to react quickly if there is any change in road conditions. If you are confident where everything is, then it will help you keep calm and become a more competent driver.
2. Observe others driving
If your parents or friends are driving somewhere and you are the passenger, pay attention to their technique. Ask them questions as they drive. You may get a sense of when to change gear and ask them why they shifted up a gear if you don't understand. They will be more than willing to help as they have been in your shoes too.
3. Wear proper footwear
When starting off learning to drive, you may not think that footwear would impact driving. Wearing incorrect footwear can be challenging to drive in and potentially dangerous. You should wear something with a flat thin sole. You will want the car to be able to respond to what you're doing at all times. With a thicker sole, you may brake much harsher by accident as you cannot feel the pedal as usual.
4. Don't throw your theory test book away
After you pass your theory test, you may want to ditch the book and forget about the theory side of driving. However, there is a lot of valuable information in the book to help you on your journey of learning to drive. It holds all the road signs which you will need to know. You will also be asked about road signs and rules of the road in your driving test, so best to practice from the start before you even do any lessons.
5. Adjust your mirrors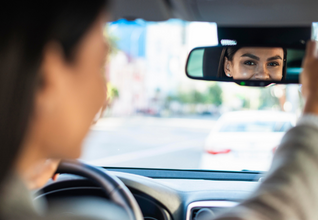 If you share a car with another driver when learning to drive, then you willneed to adjust your mirrors every time you get into the car to suit your line of vision. You will know if it's correctly adjusted if you can see your full rear window in the rear-view mirror, and your side-view mirrors should be positioned for blind spots. You can ask your parents or a driving instructor if you get confused.
Your mirrors are essential, and your driving instructor will highlight the importance of properly setting and checking your mirrors. You should check your mirrors before and after you change a lane, turn or stop. It is one of many routines you need to get in the habit of doing.
6. Ask questions in your driving lessons
Your driving instructor is there to help you for the duration of your lesson, which only lasts 1-2 hours. If they give you instructions and you're unsure what to do, then all you have to do is ask a question. You shouldn't be afraid to ask questions. It will help you get the most out of your driving lessons.
You're not just learning to drive for your test but also for the rest of your life. It will take time to build on your skills and confidence but put in the effort and make time to practice your skills.
7. Learn basic car maintenance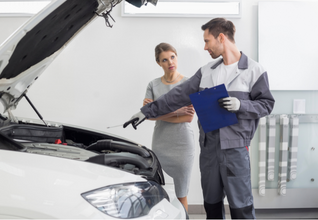 Learning basic car maintenance is helpful for your test but also helps to know if anything goes wrong. You should know all the basics, such as checking tyre pressure and engine oil and correctly opening and closing your bonnet. In your driving test, you may also be asked about your car's different functions, such as lights.
After you pass your test, you should know how to maintain your car and changing a tire should be at the top of that list. Flat tires can happen when you are least prepared for them, so ensure you know what to do in an emergency.
8. Never drive without a fully licensed driver
In Ireland, a learner driver is legally required to always have a fully licensed driver with you. The fully licensed driver must hold a full license for a minimum of 2 years. Failure to do so can result in a fine, points, and your car being impounded.
9. Manage your speed
When learning to drive, take your time and give yourself plenty of time to turn, brake and more. Take things slowly, and do not feel pressured to drive faster by other drivers when you're not ready. The faster you go, the less control you have; when you're not ready, it can be a hazard. As you become more comfortable with driving, you naturally pick up the pace and drive at the speed limit.
10. Stick to familiar & easy routes
When learning to drive, you should pick a driving route that you are comfortable with. Use this route to practice 3-point turns, hill starts and reversing. Good places to practice these are estates and parks. If you feel ready to practice another route, look for ones with a roundabout and get familiar with the roundabout manoeuvres.
Passed your theory test and looking to get a first car insurance quote? Get a secure quote in minutes with KennCo Insurance today.