This year marks the centenary of the 1916 rising.  Countrywide, there are events to commemorate the rising. Museums have exhibitions with all the memorabilia on show, Glasnevin Cemetery have special 1916 tours to show the graves of the heroes and ordinary people who died that week. Primary schools have been issued with packs which include copies of the proclamation and Irish tricolours so that our youngest generations can learn about their heritage. There have been TV programs and documentaries made.  If you want to buy a book about it you will be overwhelmed by the amount of historical and human interest books on the shelves of bookshops around the country.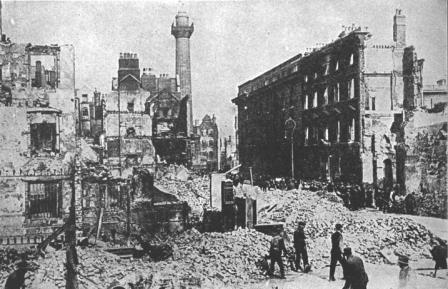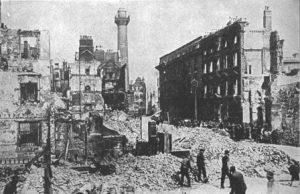 But what about Insurance?  What role did Insurance have to play in the rebuilding of Dublin after the week of fighting in April 1916? Dozens of buildings were destroyed, business owners had their shops looted of stock, windows were broken on Moore Street, O'Connell Street and surrounding areas. Who paid for rebuilding? And what about the shops that could not open during the week of the siege? Did they have business interruption Insurance? Did such policies exist? Who Insured the traders, and did the Government step in to compensate?
Much of O'Connell Street (Sackville Street) was reduced to rubble, the damaged areas including the whole eastern side of the street as far north as Cathedral Street, and the terrace in between the GPO and Abbey Street on the western side. The events had a disastrous impact on the commercial life of the inner city, with many businesses forced to close for up to six years for rebuilding, or some never even reopened 
There are very few records of who the main Insurers at the time were, but Commercial Union (also known as British General) were one of the main Insurance Companies (Later Hibernian, and now Aviva) with an office in Dublin, they attempted to use a force majeure clause to avoid paying out for damage caused by "war or invasion". In an effort to address the problems faced by traders and in an effort to restore some semblance of normality, the Dublin Fire & Property Losses Association was formed on 8th May 1916.  They advertised in the Irish Independent, inviting business owners to submit claims for damaged property, with the government agreeing to indemnify the losses.  It is difficult to ascertain who exactly paid for the rebuilding, and if it all fell to the Dublin Fire & Property Losses Association, the following link makes interesting reading, uses information gleaned using records from the property losses committee, and outlines claims made by the traders, from glass breakage, to total roof repairs and claims for entire stock being stolen by looters. 
KennCo Insurance provide great value Insurance on a range of different products, why not call us now on 0818 25 20 25 to find out more information.