Dash cams are becoming increasingly popular and valuable in recent years. A recent study by Which? found that one in three dash cam owners involved in accidents used their dash cam footage to support their claim.
There are lots of benefits of having a dashcam in your car. The same research by Which? found that one in five drivers noticed their driving improved with the dash cam in the car. It may help other drivers become more alert and confident in their driving. 
Dash cams are a great investment, but how do you choose the right one for you and your car. We will outline some factors to consider when purchasing your brand new dash cam.
Can You Get Cheaper Insurance For Having a Dash Cam?
Yes, you could possibly save money on your car insurance by installing a dash cam in your car. Some insurers may take this into consideration, although it is not a commonly asked question across insurers at the moment. They are an excellent way to prevent theft and capture footage from car accidents. They can help identify if the other driver was in the wrong. Your insurance may reduce because you're taking more steps to become a safer driver.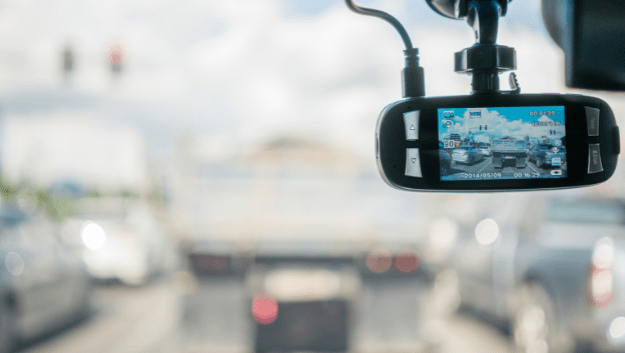 Important Dash Cam Features
When purchasing a dash cam, you should always look at the following features.
Video Quality: You will want a dash cam that shoots at least High Definition (HD) so that you can clearly see the footage you captured. The video quality can become very important if you're trying to claim for an accident you were involved in. If you want even better quality, you should look out for an Ultra High Definition (UHD), which is twice the resolution of an HD dash cam or even 4K, which is four times the quality of an HD dash cam. Having a UHD or 4K dash cam will help you see small details that can be very important such as license plates or the face of someone who tried to rob your car. 
Viewing Angle: A dash cams viewing angle is how much of the road ahead or behind can be recorded. Dash cams can go from 120 degrees up to a full 180 degrees. 180 degrees is more than the 140 degrees that humans can see. It will capture more detail of what's going on at the side of your car. This can be very helpful for an accident that happens at the side of your vehicle. 
Night Time Recording: Most dash cams sold will be capable of night time recording. Accidents are common at night, so it is crucial to capture these accidents clearly. More premium models will have a full night vision mode which is capable of recording perfect 4K video on dark or unlit roads. 
Wi-Fi: It is very useful to have Wi-Fi on dash cams. This helps users save the clips on their phones or other devices. All you need to do is connect to the dash cam's Wi-Fi, and you can transfer videos easily. 
GPS: Having GPS built into your dash cam can prove crucial. It will automatically add a location to any video clips letting you know where incidents occurred. It is very helpful for the Gardaí and your insurers. 
Voice Mode: Some dash cams have a voice activation mode. It allows users to then capture an image or a video clip by saying some voice commands. Your hands don't have to leave your steering wheel, and you can focus on the road. 
Benefits of Dash Cams
There are several benefits of having a dashcam mounted in your vehicle. Their popularity has soared in recent years, and their quality is increasing. 

Provides Both Protection & Evidence 
As we mentioned earlier, dash cams are highly effective at recording video footage of the accident. Having this video footage can prove very helpful to prove that you were not at fault for an accident that occurred. 
Improve Driving
Dash cams may lead you to become a safer and more responsible driver on the road. Some dash cams even offer eye-tracking features. If it sees that your eyes are not on the road, an alarm will sound. It will help keep you focused on driving and not on your phone or falling asleep. Other drivers may become aware that cars now have dashcams fitted to their cars, encouraging them to drive more sensibly. 
Protect Your Parked Car
A lot of newer dash cams have a parking mode feature on them. If your car is damaged when parked, it will automatically start recording. You will have a great chance of finding out who hit your car when you weren't there, something not possible without a dash cam. 
Are you looking for car insurance? Get a secure quote today!