One third of car fatalities involving a child occur where the child is not in a child seat or properly restrained.  Children rely on adults to ensure that the necessary safety precautions are in place, so it's up to you to know how to implement this.  Otherwise you're putting their lives at risk.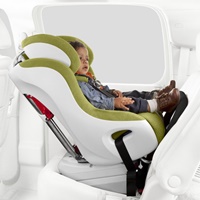 Do you have the Correct Child Seat?
The type of car seat you need changes depending on the size of your child. Every child under a height of 150cms or a weight of 79lbs must be placed in a child restraint system. This may be a child seat or a booster cushion, depending on the size of the child. It is against the law to not have your child properly restrained in a car and may lead to 3 penalty points. The only exception to this rule is if you are a passenger in a taxi. 
Rear-facing child seat
Babies up to 13kgs must be secured in a rear-facing child seat by law. Once they are above this weight, they may then be positioned in either a rear or forward facing child seat. Rear-facing child seats should not be placed in the passenger seat of a car when the airbag is active. In the event of an accident, an airbag can cause serious injury to a baby and may even lead to death.
Child Seat Categories
Below is a list of child restraint categories which show the correct restraint type depending on your child's age. The categories are based on weight instead of age, as children of similar ages can vary in actual size at a young age. 
| | |
| --- | --- |
| Weight | Car Restraint System |
| Birth to 10kgs | Rearward facing baby seat |
| Birth to 13kgs | Rearward facing baby seat |
| 9-18kgs | Rear or forward facing child seat |
| 9-36kgs | High back booster with removable harness |
| 15-25kgs | High back booster seat without harness |
| 15-36kgs | High back booster seat without harness |
| 22-36kgs | Booster Cushion |
Where should you fit the child seat?
The safest option is to place the child seat in the back seat. This reduces the changes of the child receiving injuries from airbags or the dashboards. If you do not have room in the back of your car, try to have the heaviest child in the front of your car in a front facing seat. 
How Should You Fit The Child Seat?
Buy your car seat from a retailer who provides a trained member of staff to fit it if possible. You should also ask them for instructions on how to properly install it yourself in the future. You should always keep a copy of the instruction manual in the car for future use. Once you have followed the instructions, check that the seat is properly secured by ensuring it cannot slide forward or sideways.