Finding the perfect family car in Ireland is essential for a comfortable and safe journey with your loved ones. This article provides a comprehensive list of the best family cars available in Ireland, highlighting their features and benefits. Whether you're looking for a spacious SUV, a fuel-efficient hybrid, or a compact city car, we've got you covered.
Choosing the right family car is essential for ensuring the security and comfort of your loved ones while travelling. A family vehicle that fits your needs will have enough capacity, cutting-edge safety features, good fuel economy, and practicality.
Top Considerations for a Family Car
Before exploring the best family cars in Ireland, it's essential to consider the following factors when making your decision:
Size and Space:

 Look for a car with adequate seating capacity and cargo space to accommodate your family comfortably.

Safety Features:

 Prioritise cars with advanced safety features such as adaptive cruise control, lane-keeping assist, and collision mitigation systems.

Fuel Efficiency:

 Opt for cars with good fuel economy to minimize running costs and reduce environmental impact.

Reliability:

 Choose reputable brands known for their reliability and dependability.

Budget:

 Your budget will play a significant role in your decision. Remember to factor in the cost of insurance, fuel, and maintenance in addition to the purchase price.

Entertainment and Connectivity:

 Consider cars offering entertainment systems, Bluetooth connectivity, and other features to entertain your family during journeys.
Best Family Cars in Ireland
Let's analyse the best family cars available in Ireland, taking various requirements and preferences into account:
Ford Kuga: Versatile and Family-Friendly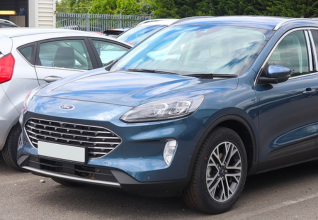 (Copyright: Vauxford, CC BY-SA 4.0 , via Wikimedia Commons)
The Ford Kuga offers versatility, ample space, and practical features, making it an ideal choice for families. With its comfortable seating, generous cargo capacity, and advanced safety technologies, the Kuga ensures a pleasant and secure driving experience.
Toyota Prius: Fuel-Efficient and Environmentally Friendly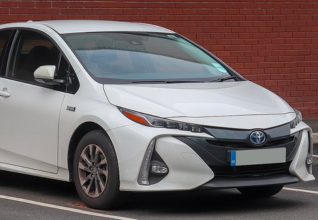 (Copyright: Vauxford, CC BY-SA 4.0 , via Wikimedia Commons)
The Toyota Prius is renowned for its exceptional fuel efficiency and eco-friendly nature. Its hybrid engine combines a petrol engine with an electric motor, offering impressive fuel economy and reduced emissions, making it an excellent choice for environmentally conscious families.
Volvo XC60: Safety and Luxury Combined
The Volvo XC60 stands out for its commitment to safety and luxurious design. Equipped with advanced safety features like City Safety with steering support and a spacious, high-quality interior, the XC60 provides a comfortable and secure ride for your family.
Volkswagen Touran: Spacious and Practical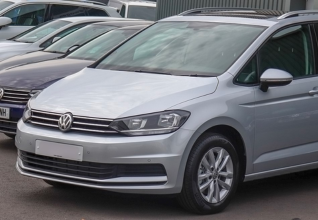 (Copyright: Vauxford, CC BY-SA 4.0 , via Wikimedia Commons)
The Volkswagen Touran is a practical and versatile family car with ample space, configurable seating, and convenient features. The Touran ensures a pleasant and hassle-free journey with its clever storage solutions, comfortable ride, and solid build quality.
Hyundai Tucson: Affordable and Reliable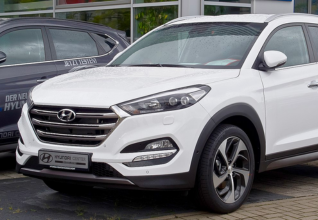 (Copyright: Vauxford, CC BY-SA 4.0 , via Wikimedia Commons)
The Hyundai Tucson offers an outstanding balance of affordability and reliability. With its stylish design, well-designed interior, and a range of features, the Tucson provides excellent value for money without compromising safety or comfort.
Nissan Qashqai: Stylish and Compact
The Nissan Qashqai combines style, compactness, and practicality, making it a popular choice for families in Ireland. With its sleek design, comfortable cabin, and advanced safety features, the Qashqai offers a smooth and enjoyable driving experience in urban and suburban environments.
Honda CR-V: Comfort and Convenience
The Honda CR-V provides a comfortable and spacious interior, making it a reliable choice for family adventures. With its refined ride, user-friendly features, and versatile cargo space, the CR-V ensures a comfortable and convenient journey for your family.
Skoda Octavia: Value for Money
The Skoda Octavia offers exceptional value for money with its practicality, space, and reliable performance. Known for its generous boot capacity, fuel-efficient engines, and comfortable ride, the Octavia is an excellent choice for families looking for a budget-friendly yet feature-packed car.
BMW X5: Performance and Elegance
The BMW X5 combines performance, elegance, and family-friendly features. With its powerful engines, luxurious interior, and advanced technologies, the X5 delivers a dynamic driving experience while providing ample space and comfort for your family.
Renault Captur: Compact and Maneuverable
The Renault Captur is a compact crossover that offers manoeuvrability and practicality for urban families. With its distinctive design, efficient engines, and smart features, the Captur makes city driving a breeze while providing sufficient space for your family's needs.
Audi Q7: Luxury and Versatility
The Audi Q7 offers luxury, versatility, and cutting-edge technology. With its spacious and refined interior, advanced safety features, and powerful engines, the Q7 ensures a comfortable and enjoyable ride for your family on any journey.
Kia Sportage: Modern Design and Features
The Kia Sportage combines modern design, high-quality materials, and various features. With its comfortable seating, user-friendly infotainment system, and reliable performance, the Sportage offers a stylish and practical choice for families in Ireland.
 Mercedes-Benz GLC: Sophistication and Comfort
The Mercedes-Benz GLC exudes sophistication, comfort, and refinement. With its luxurious cabin, advanced safety technologies, and smooth ride, the GLC provides a premium driving experience for families who appreciate elegance and comfort.
Peugeot 3008: Innovative Technology and Style
The Peugeot 3008 stands out for its innovative technology and stylish design. With its futuristic interior, advanced driver-assistance systems, and efficient engines, the 3008 offers a blend of practicality and elegance for modern families.
Ford Focus: Practical and Fun to Drive
The Ford Focus combines practicality, driving pleasure, and family-friendly features. With its spacious interior, responsive handling, and advanced safety features, the Focus ensures an engaging and safe driving experience for your family.
Final thoughts
Consider your family's requirements, spending limit, and preferences while selecting the best family vehicle in Ireland. The list above includes a variety of alternatives, including roomy SUVs, fuel-efficient hybrids, and small city vehicles, so you can pick the ideal vehicle to fit your family's lifestyle and guarantee a fun and safe trip for everyone.
FAQs
What factors should I consider when choosing a family car in Ireland?
When selecting a family car, consider size, safety features, fuel efficiency, reliability, budget, and entertainment/connectivity options.
Which family car offers the best fuel efficiency?
The Toyota Prius is known for its exceptional fuel efficiency, making it an environmentally friendly choice for families in Ireland.
Are there any luxury family cars available in Ireland?
The BMW X5, Audi Q7, and Mercedes-Benz GLC are examples of luxury family cars offering comfort, style, and advanced features.
Which family car is suitable for urban driving?
The Nissan Qashqai and Renault Captur are compact, manoeuvrable choices, perfect for navigating city streets and parking in tight spaces.
What should I look for in a family car?
When choosing a family car, look for safety, space, comfort, and fuel efficiency features. You'll also want to consider your budget and whether a new or used car best fits your family.
Kennco Services