Here at KennCo, we know our drivers love both Apple CarPlay and Android Auto. They are both an excellent product that merges both your phone and your car. 
These two platforms bring a touchscreen interface to your car and incorporate messages, media, navigation and more. They mostly achieve the same purpose, so it may be challenging to decide which one to choose. You might be thinking, what's the difference? Or even which one is better?
We want to help our customers out by informing them of the debate between Apple CarPlay and Android Auto. We will help you decide which one you should be buying. We will start by looking at AppleCarplay first.
What is Apple CarPlay?
Carplay is Apple's feature of connecting your iPhone to your car and a tablet-like display with a very simple iOS interface. CarPlay essentially lets you access certain apps and features on your phone for use in the car.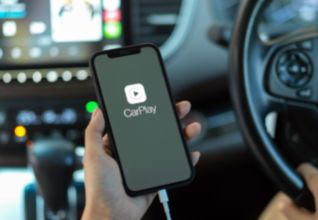 You may be thinking, but my car already has a smart device in it? Yes, you may already have a tablet device installed in your car by your car manufacturer. The downside to these is they are usually very low build quality, and the features are lacking. They're a car company, not a tech company at the end of the day. CarPlay, on the other hand, is consistent on any car that supports it and brings a familiar interface for iPhone users.
CarPlay doesn't replace your manufacturer's stock system. If for whatever reason, you're not happy with Carplay, you can swap back to your stock system at a tap.
How Does Apple CarPlay Work?
Apple CarPlay lets you access apps on your iPhone but with less functionality. Of course, there are other options for drivers who want to play their own music from their phone to the stereo, but that comes with negatives.
If you're constantly getting notifications from your apps while you're driving, it will distract you, and the more distracted you are driving, the risk of you being in an accident increases. 
The benefit of CarPlay is that it make sit easy to navigate, reply to messages, play your own music and ask Siri for any queries. This is made very easy thanks to the voice commands on CarPlay and the large app icons. 
What Apps are Available for CarPlay?
When using CarPlay, you don't install apps into CarPlay. The apps you use in CarPlay are already installed on your iPhone and are compatible with Apple CarPlay. These apps include many built-in iOS apps such as Phone, Messages, Music and Maps. Third-party apps such as Spotify and Audible work on CarPlay too.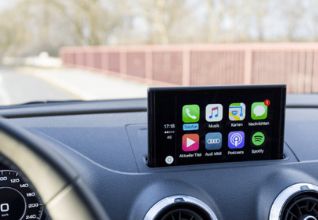 CarPlay is great to play music on Spotify, and you can even ask Siri to play songs with voice commands. CarPlay now supports podcasts and audiobooks to give you an exciting story while driving, so you're always entertained. 
Apple is quite protective over what apps drivers can use with CarPlay than Google is with their Android Auto. This may suit some drivers, but others may like the freedom of Android Auto. 
How Do You Use Siri With Apple CarPlay?
To use Siri, you simply press and hold the dashboard button, which you will see on the left dashboard. Alternatively, you can hit the voice button on your steering wheel if you have one. This may be more convenient, especially when driving. You can then ask Siri anything that you typically would on your iPhone. You can summon Siri with queries such as:
"Call Mom."

"Play music by The Beatles."

"Send John a text that I'll be home in 5 minutes."
You can, of course, use your screen to do this too, but Siri is a lot quicker, safer and more convenient. 
Apple CarPlay Overall
Apple Carplay is a great way to interact with iPhone and your car. The functionality of Apple CarPlay is amazing and offers a range of possibilities to make your commute even easier. It is a must-have if you have an iPhone and if your car supports it. It adds more features and more apps as it grows, so it is only getting better.
If your car does not support Apple CarPlay, then you may have to invest a reasonable sum of money and time to get it. If you only want Apple CarPlay to play your music, then other cheaper options are available to you. 
What is Android Auto?
So we've outlined what Apple CarPlay is and what can be done with it for iPhone users. Now it's time to explain what Android Auto is. Like Apple CarPlay, Android Auto promises to keep its drivers safe and reduce distractions while on the road. 
What Does Android Auto Do?
Like Apple CarPlay, Android Auto takes features that you love on your Android devices and puts them on your car's dashboard by using your infotainment system. It has a similar interface to an android device and shows big menus and icons to help you navigate and use it. 
One of the big benefits of Android Auto is that Google Maps is a navigation system built-in. Google Maps is superior to Apple's native Maps app. Google Map can give you step by step directions to your location and even suggests an alternate route if it detects heavy traffic on the route. 
Android Auto gives drivers access to songs and podcasts via a range of third-party apps. You can also browse the web, send messages and answer phone calls. 
Just like Apple CarPlay and Siri, you can use Google Assistant to help you on your commute. You can ask it to call, text, or even ask questions. 
Many cars come with Android Auto built-in, such as Hyundai, Kia, Toyota and much more. If your car doesn't come with Android Auto, you can always replace your current system and upgrade it with an Android Auto compatible system. 
Android Auto Overall
Android Auto is a great addition to any Android user's car with its user-friendly OS, which connects your phone to your car. Android Auto is becoming available in more makes and models in recent years. 
Should You Choose Apple CarPlay or Android Auto?
The decision ultimately comes down to which phone you have and plan on using. If you use an iPhone and plan on sticking with Apple, you should be using AppleCarplay, and if you have an Android device, you should use Android Auto. If you're not using either of these, maybe you could give them a try and see what all the fuss is about!