Amending Your Car Registration Certificate
Every car owner in Ireland must have a Vehicle Registration Certificate (Logbook) for their car. When a car is purchased or sold, the change of ownership must be registered with the Vehicle Registration Unit of the Dept. of Transport. This applies to both new and used cars.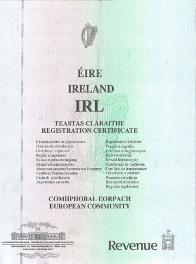 Not registering change of ownership can result in heavy fines. It is particularity important for the previous owner to ensure change of ownership has been completed as they may continue to receive notices regarding fines and car tests if they have not registered the change.
Change of Address on Logbook
You can change the address on your logbook by filling out the back page of your logbook and forwarding to the Department of Shannon, Co. Clare.
You will then receive a new logbook in the post with the amended address and all future notifications regarding your car will be sent to your new address.
Alternatively, you can update your address online when you are purchasing car tax. This option is only suitable if your car tax is due at the same time of your change of address.
If you're purchasing a new or used car, contact KennCo Insurance today for a quick and secure quote.
Kennco Services