The Commercial Vehicle Road-worthiness Test (CVRT)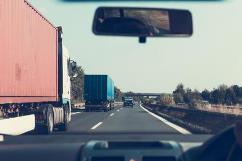 The CVRT was originally known as a DoE Test and is a test that van drivers must undergo every year for roadworthiness. Vans are due for their first CVRT test exactly one year after your van was first registered. The CVRT is not limited to just vans. It includes all commercial vehicles, buses and other vehicles that can carry more than 8 people at a time. 
What is the purpose of the CVRT? 
The CVRT ensures that your van meets the basic safety standards necessary to drive on roads in Ireland. There has been an increase in the emphasis on vehicle safety in Ireland in the past decade. Owners of vans and large vehicles are now required to carry out regular checks, including daily walk-around checks. 
How to prepare for the test
Preparing for your CVRT Test
Most of the following tips apply to keeping your van on the road for longer and not just passing the test. Taking care of your van maintenance routinely will reduce costs in the future. 
1. Fluid Levels – Make sure that all of the fluid levels of your van are at the correct level. This includes oil and water levels. 
2. Clean your Van – Clean out your van before you go for the test. Tools and materials may prevent the examiner from being able to properly inspect your van, which may result in you having to return to re-do the test at a further date.
3. Wash your Van – It's not only important to make sure the inside of your van is clean, the outside matters too. Ensure that you bring your van for a wash before the test, and ensure that the base of the van is cleaned properly. The inspector has to look underneath; if it isn't cleaned enough, you may fail the test.
4. Hubcaps and Bolt Covers – You should remove hubcaps or nut covers from your van's wheels before the test. Wheel nuts are inspected during the test, so they need to be visible. 
5. Seat Belts – Seat belts on all seats must be in working order. Check your belts before going for the test and ensure that they are easily accessible to the examiner. 
6. 6. Service your Van – Unless you're a mechanic, you may be unable to check some parts of your van before the test. Drop your van into a mechanic to run over your engine if you haven't had it serviced in a while. 
For more information on how to prepare for the CVRT, check out the official website
here
.
Insuring you Van
If you're considering purchasing
van insurance
, you can get a quote from KennCo today by calling 0818 25 20 25.