Summer is just around the corner, and it's the perfect time for Irish travellers to explore new destinations or revisit their favourite spots. Whether planning a weekend getaway or a longer trip, here are some travel tips for a fun and hassle-free summer vacation.
1. Book your flights and accommodation early
Summer is a popular travel season, so booking your flights and accommodation as early as possible is best to avoid disappointment. Flights and hotels can get more expensive the closer you get to your travel dates, so plan to get the best deals.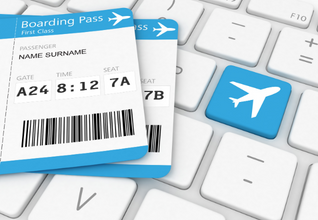 By booking in advance, you can take advantage of early bird discounts and get the best deals on flights and hotels. This is especially important during peak travel seasons when prices are higher, and availability may be limited.
It's also important to note that last-minute bookings can be much more expensive, so planning and booking early can help you save significant money on your trip.
2. Be prepared for the weather
Ireland is known for its unpredictable weather, but if you travel to a warmer destination, pack appropriate clothing and sunscreen. We Irish are prone to get sunburned, so this is essential. The last thing you want is to get sunburnt on your first day and spend the rest of your trip in pain.
3. Get travel insurance
Travel insurance is essential for any trip, especially during the summer when there are more risks of flight cancellations, delays, or lost luggage. Medical cover is also crucial in case of illness or injury abroad.
We provide Travel Insurance for customers in Ireland. You can choose between multi-trip or single-trip cover depending on your needs and budget.
4. Pack light
Summer is the perfect time to travel light, so leave the heavy winter clothes at home and pack light, breathable clothing. You want to avoid being weighed down by unnecessary baggage, and packing light means you'll have more space for souvenirs to bring back to your family at home.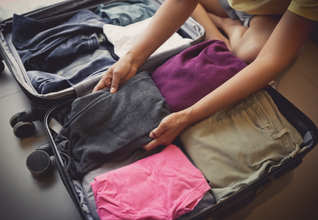 Before you start packing, list everything you need for your trip. This will help you to stay organised and avoid overpacking.
5. Stay hydrated
Summer heat can dehydrate you quickly, so drink plenty of water throughout the day. This is especially important if you're travelling to a hot destination where the sun can be relentless. Especially on an active holiday, you may be using a lot of energy, so keeping on top of your water intake is essential.
6. Plan your activities in advance
If you're travelling during the peak season, planning your activities is best to avoid long queues or disappointment. Book your tours, activities and tickets in advance to save time and money.
Do your research on things to do in the location you plan on going to, and book your tours and activities online.
7. Learn some basic phrases
Learning some basic phrases in the local language is always a good idea if you're travelling to a foreign country. This can help you navigate your way around and communicate with locals, making your trip more enjoyable.
Even a simple "thank you" is very appreciated by the locals so look up a few simple phrases before you head to your holiday destination.
8. Be respectful of local customs
Every country has its own customs and traditions, so respecting them when travelling is essential. This can include dress codes, eating habits or social norms, so research before you go and show respect to the local culture.
9. Keep your valuables safe
Summer is a busy travel season, so always keep your valuables safe. This includes your passport, cash and credit cards. Consider using a money belt or lockable bag to keep your valuables secure.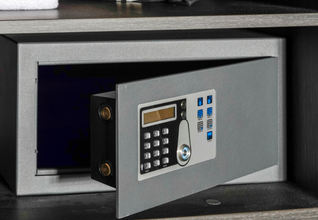 If you're staying in a hotel, they will likely have a safe in which you can store all your valuables, and they will remain untouched until you open the safe again with a code you use. We always recommend using safes in hotels for peace of mind, and you can instead focus on having fun and topping up that tan!
11. Download offline maps
Download offline maps of your destination to avoid getting lost or incurring expensive roaming charges. This can also help you plan your itinerary and navigate the city more efficiently. It may be more relevant if you're travelling outside of the EU. In the EU, you will still have a high data allowance to use Google Maps and navigate around the city.
However, there may be times when your service drops, so we recommend downloading an offline map of your destination.
Enjoy yourself!
Finally, remember to relax and have fun! Summer is the perfect time to unwind and explore new destinations, so make the most of your trip and create lasting memories.
Conclusion
In conclusion, the summer season is a great time for Irish travellers to explore new destinations, relax, and create unforgettable memories. You can make the most of your summer travels by following these travel tips.
Stay safe, have fun, and embrace new experiences as you embark on your summer adventure. Whether travelling solo, with friends, or with family, the summer is the perfect time to explore new cultures, try new foods, and make new friends. So, pack your bags, and prepare for an exciting summer journey!
Kennco Services