Buying your first car can be expensive, especially when you're young, and it is a significant moment in your life.
You put in all the hard work with lessons and your test, and it's time to have your own car and more independence.
It is an exciting time for first-time buyers, and you may want to rush to buy a car. We outline several factors and stores you should consider to save money along the process. 
Save Up
You will have to pay interest on any car loan repayments when purchasing a car. We recommend that you save money before buying to put more money on a down payment so you're not borrowing as much. It will save you much more money in the long run. 
Budget 
Before shopping around, most buyers will have a set budget in their heads that they can afford. It would help to consider what you could afford and the different loan options available. You don't want to overborrow as there are still other car costs, such as insurance, running costs and maintenance. You also have to consider other bills, such as your rent, and factor all these things into your budget. 
Car/Engine Size
If you're buying your first car, you are probably either a learner driver or a young driver with little experience. For this reason, you are better off purchasing a vehicle with a smaller engine size.
You will also need to consider what occasions you will use the car. Are you using it for long daily commutes or for driving locally?
These factors will all impact your decision on what engine size to decide on. 
New or Used Car
You also need to consider if you are going to purchase a new car or a used car. New vehicles depreciate their value by almost 11% the second they leave the dealership. The car will, of course, depreciate its value year on year, so it will be worth a lot less a few years later.
If you decide to purchase a used car, then that vehicle has already depreciated, so you're not necessarily losing much money on the vehicle.
You will save a lot of money buying a car a few years earlier than purchasing a new one. Especially for your first car, it may be challenging to fund purchasing a new car from a dealership. 
Look Around For a Car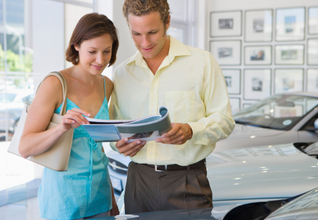 It's time to shop for your car now that you have decided the budget and the type of car you're looking at. You can view cars from any dealership near you or look at websites that sell new or used cars.
We would always recommend getting some advice or an experienced driver as they will have experience in driving and purchasing cars and can help you spot any issues. When buying a car, you should look out for the following:
What is the mileage

The car has a valid NCT

The car has been serviced

Any damage on the car

The car is fit to drive

If the air-con, radio, locks and other elements of the car are working

Has the car had many previous owners

Has the car ever been in a crash

Is this the cars original paintwork
Buy From a Dealer
We recommend purchasing your car from a dealer rather than a private seller. It is a much safer option. There are many reasons to buy from a dealership which include:
More reliability when purchasing from a dealership

They are more responsible sellers

They offer a guarantee when you purchase a vehicle

They will handle all paperwork, such as change of ownership

They provide more legal protection 

They usually provide a valid NCT, new tyres or other benefits when you purchase with them.
Test Drive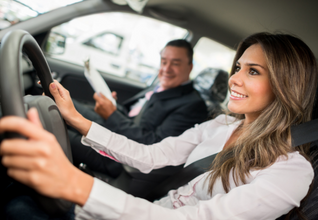 Before you purchase a car, it's essential to test drive it. Before you set off in the car, ensure you're insured to drive it.
You should give it a good test drive on some back roads rather than just driving it up and down the road. How does it feel to drive?
Are the gear changes smooth? Test the brakes. Drive at speed to see how it handles on a motorway.
Are there any noises when driving the car? When you come back from the test drive, ask the salesperson if you have any questions or worries. You don't want to purchase the car and immediately have to fix an issue. 
Car Expenses
Based on the car you want to purchase, you can estimate your monthly spending on the vehicle.
This will help you decide if it's in your budget or not. To calculate this, you should look at the following:
Motor Tax

Petrol/ Diesel cost

Maintenance

Insurance
Financing options
Most people will not have the money upfront to purchase the car. You will need a loan to pay for the car, and you should shop for the best loan payments. Most people will call their local Credit Union to get a car loan, as they offer very competitive interest rates. 
Some garages may even offer you finance as part of the package, but you will likely end up paying more than you would with your local bank or credit union.
This is why it's always a good idea to keep savings in your credit union. If they see that you save and have the money, you will have no problem acquiring the loan you require.
Car Insurance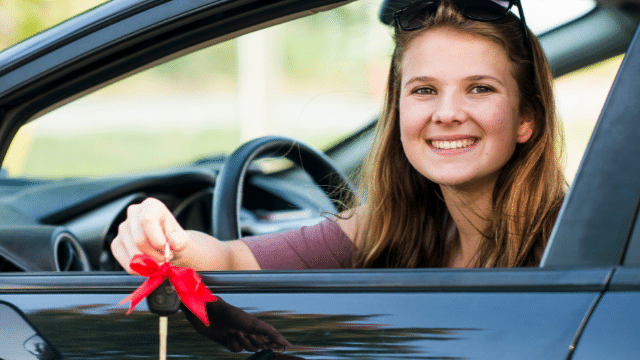 Driving in Ireland is a legal requirement to have car insurance. You should already have a general quote for the car you have been looking at to see if you can afford it. You can get a car insurance quote online at our website here if you are purchasing your first car. 
Learn To Maintain Your New Car
Now that you have purchased your new car and have insurance, it's time to keep it in good condition. It would help if you learned the following:
How to change a tyre

How to check the oil

How to check coolant levels

How to check your tyre pressure
What Are Some Good First Cars For New Drivers?
The following cars are perfect for new drivers as they are cheap, safe and easy to drive. The list below are some great cars:
VW up!

Kia Picanto

Ford Fiesta

Seat Ibiza

Hyundai i10

Volkswagen Polo

Opel Corsa
To get a quote for your new car online, visit our car insurance page here.