In 2023, the Irish market has seen a diverse range of vans becoming popular among businesses and tradespeople. These vans range from compact models to larger commercial vehicles, each offering unique features and benefits.
When finding the best work vans in Ireland, several popular and reliable options are available. From compact models for city navigation to spacious ones for heavy-duty tasks, these vans offer a blend of functionality and efficiency. To help you make an informed decision, we explore the best selling vans in Ireland in 2023.
1. Ford Transit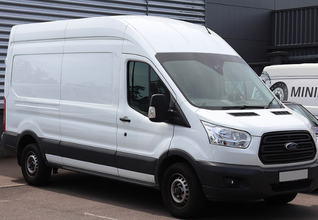 With a reputation for durability and reliability, the Transit offers plenty of cargo space, making it perfect for transporting tools and materials.
(Copyright: WikiMedia)
The Ford Transit remains a steadfast choice for Irish businesses, renowned for its adaptability to various trades it consistently ranks as one of the best selling vans in Ireland. Available in multiple sizes and configurations, it caters to diverse cargo needs. The Transit excels in providing substantial cargo space, essential for transporting tools and materials efficiently.
Its latest models boast Ford's SYNC 3 infotainment system, offering voice-activated navigation and smartphone compatibility, thereby enhancing the driving experience. The Transit's reputation for durability and reliability underlines its value as a long-term business investment.
2.Volkswagen Transporter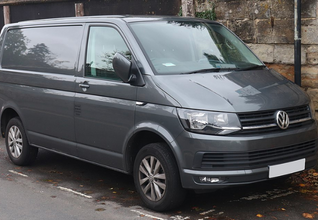 (Copyright: WikiMedia)
The Volkswagen Transporter is celebrated for its robust construction, spacious interior, and environmental friendliness. Its fuel efficiency is a significant advantage for businesses aiming to reduce their ecological footprint.
The Transporter's interior is designed for comfort, featuring high-quality materials and built-in storage solutions, making it ideal for professionals like plumbers and electricians. Its refined ride quality ensures comfort during long journeys, and the van's overall reliability and build quality make it a top choice in the Irish market.
3. Mercedes-Benz Sprinter
A top contender for heavy-duty applications, the Mercedes-Benz Sprinter offers a blend of power and dy=durability.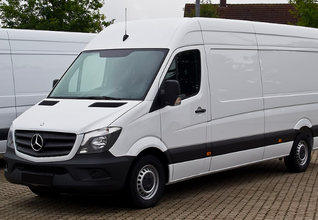 (Copyright: WikiMedia)
The Mercedes-Benz Sprinter is a top contender for heavy-duty applications, offering a blend of power and durability. Its various sizes and configurations allow for customisation to specific business needs. The Sprinter stands out for its advanced safety features, including lane departure warnings and automatic emergency braking, ensuring a safe journey.
Its robust build quality and reliability have seen it become one of the best selling vans in Ireland – and a preferred choice for businesses requiring a durable and powerful van for demanding tasks.
4. Renault Trafic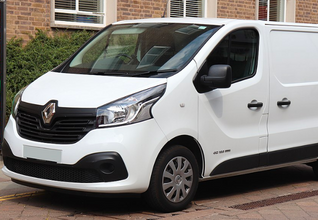 (Copyright: Vauxford, CC BY-SA 4.0, via Wikimedia Commons)
The Renault Trafic strikes a perfect balance between affordability and functionality, making it a popular choice among small businesses and individual tradespeople. It offers ample cargo space and comes in various body styles, including panel, crew, and passenger vans.
The Trafic's interior is thoughtfully designed with a focus on driver and passenger comfort, featuring a touchscreen infotainment system and rearview camera. Its fuel efficiency is a key selling point, offering cost savings on fuel, which is particularly beneficial for businesses with budget constraints.
5. Citroen Berlingo
The Citroen Berlingo is a practical and reliable choice for small to medium-sized businesses. Known for its excellent cargo space and fuel efficiency, it provides a comfortable ride and is available in different configurations like panel vans and MPVs.
The Berlingo's affordability is a significant advantage, especially for startups and small businesses with limited budgets. Its versatility and practicality make it a go-to option for businesses looking for a cost-effective yet reliable van.
Conclusion
In 2023, the Irish market offers a range of best-selling vans, each tailored to different business requirements. From compact models ideal for city deliveries to larger vehicles designed for long-haul tasks, there's a van to suit every business need. When selecting a van, it's important to consider factors such as budget, cargo capacity, fuel efficiency, and specific business requirements to find the ideal match for your business operations.
Need van or commercial van insurance in Ireland? Choose KennCo for comprehensive coverage on vans up to two tonnes, available for drivers aged 21-69. With KennCo Van Insurance, you can enjoy peace of mind with reliable coverage that keeps your van moving!