Getting your car serviced is often on a list of things we all forget about. We usually only go to a mechanic if there's an issue. When we think of getting our car serviced, we think of its costs. On the other hand, we must remember that getting your car serviced is essential as it will save you money in the long run. It can find any minor issues before they become large and costly ones.
Not only that, but having full service on your car can increase the second-hand value of the car as the new owner will know it's in perfect condition to purchase. Depreciation is one of the high driving costs, so this could help put some value back on your car.
If you are a new driver, you may not have gotten a car serviced before, so this is a new process for you. We have a few tips for getting your car serviced for new and experienced drivers.
How Often Should a Car be Serviced?
Most road users are unsure when to get their car serviced, so they leave off doing it for another few months. Most cars will tell you if a car service is needed. How is this? Well, if a flashing light appears on your dashboard, it's time to get it checked over. Your car manual is also great to read up on when your car needs a service. 
Usually, you should service your car after 12,000 miles. If you are driving over 20,000 miles a year, you should get a service every six months to avoid any issues and fix wear and tear. 
When is the Best Time to Get a Car Serviced?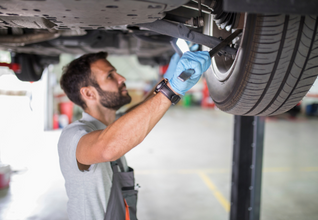 If it has been over a year since your last service, then it's time to get it booked for a service. Even if your car has low mileage, it's worth checking. You should get your car serviced more regularly if you cover high mileage. The more you use the car, the more issues you may face. An annual service is the best way to go.
If your car is under warranty and runs out in the next few months, you should get it serviced before it runs out. It will save you money if there are any issues.
What is Performed in a Car Service?
Various checks can be performed on your car, depending on how much mileage the car has done. There are three types of service that are carried out:
Minor Service
A minor service typically checks basic elements such as coolant, brake fluid, oil and anti-freeze levels. The mechanic will check your brake pads to see if they work effectively. Other checks that may be made are:
Tyre Thread Depth 

Windscreen Wipers

Lights 

Indicators
If there are issues with anything in the minor service, the garage will notify you, and they may have to repair or replace a part of the car. 
Full Service
The full service includes all elements of a minor service, which we have covered and some extras. The mechanic will check new areas in a full service, such as the engine to see if it is running correctly, the battery, suspension and steering checks. Usually, a full service will be done if you have an NCT coming up. 
Major Service
A major service includes everything above. Some parts may need to be replaced, such as:
Brake Discs

Timing belt

Cultch
It will cost you more but will increase your car's price in the long run and avoid any future issues.
Price of a Car Service 
A car service depends on a range of things, such as your car's size, model and the dealership carrying out the service. A general service can cost anywhere from €80 to €130. It's always good to shop around and compare garages' prices to get the best deal on your car service. 
Are There Any Tasks I Can Do To Look After My Car?
There are a few basic servicing tasks that you can carry out regularly to keep your car's condition in top shape. If you are a mechanic, you can go a few steps further than this, but here are a few tips for all of us who don't know much about how a car works. 
Make Sure Your Oil is Topped Up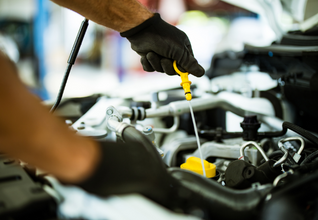 You should always keep your oil topped up. It's good practice. It can help avoid any engine problems and overheating issues. It also saves you money because a garage may charge you for premium oil during a service. 
Regularly Monitor Tyre Pressure
Monitoring your tyre pressure regularly is important. It will keep you safe on the road. It will also help you spot an over-inflated or under-inflated tyre which can wear out the tyre faster. We don't want to pay for a new set of tyres. 
Check your tyre pressure every few weeks. You will find the recommended tyre pressure for your car in your car's manual. It is normal for your front and rear wheels to need a different pressure, so be aware of it. 
Replace Fluids
Just like you are monitoring your oil levels, you should keep on top of other fluid levels such as engine coolant, windscreen washer fluid and brake fluid. They should all be checked and topped up at regular intervals. If you don't know where to find parts to check the fluid level, there will be a diagram in your car's manual. 
How Long Does a Car Service Take?
The time taken for a service depends on which service you booked. A minor service typically takes an hour and a half. A full service takes 3 to 4 hours, and a major service takes between 3 and 4 hours.