The big day is nearly here. You studied and passed the theory test, and your attention then turned to the driving test. You have completed your driving lessons, studied the rules of the road and practised as much as you can on the road. You will naturally feel nervous and anxious about your driving test, but this is normal. You can do a few things to prepare for your driving test, and we've created a list to help you. Read over our tips before your driving test, and get ready to pass your Irish driving test.
1. Complete All of Your Driving Lessons
Before applying to do a driving test in Ireland, you are legally required to complete 12 essential driver training lessons with an EDT-approved driving instructor. You don't have to stop at 12. This is only the required number of lessons. If you feel you need a few more lessons to build your confidence, then you should do so. You will become more comfortable driving with an instructor, which gives you a feel for what it will be like on the day of the driving test.
2. Learn the Rules of the Road
There are theory questions which you will be asked, such as rules of the road and road signs. You should aim to get all these correct, so you start confidently before stepping foot in the car. It is based on information from the RSA's Rules of the Road guidebook. Read over it and become familiar with each section. It will also help you with decisions on the road.
3. Do Some Pre-Tests
Aim to take at least one or two pre-tests. They give you a good indication of what to expect in the test and should help remove some of your worries. Completing a pre-test will also help highlight any bad habits you have before the test so that you can work on them before you step in the car with a real inspector.
4. Have All Your Documents
Ensure you have all the correct documentation and that your car is ready a few days before your test. You don't want to panic last minute looking for something. The documentation you will need is:
A valid learner permit

Valid original insurance disc

An in-date motor tax disc

Valid NCT Disc

L plates on both front and rear
Along with all the documentation, your car should be in good working order, so there are no engine lights or damage to the vehicle. You must also be accompanied by a fully licensed driver before and after the test, even if you pass.
5. Practice the Bonnet Check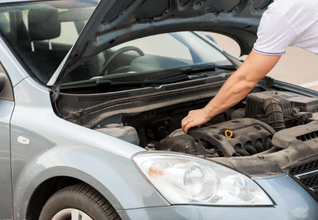 Before you start driving and once the weather is dry, you will be tested on an under the bonnet check. This is a show or tell section. You don't touch any part of the car. You will be asked to locate specific parts and asked some technical questions.
You should read your car manual to see where the following items are located because they will differ from car to car. Your driving instructor may also help you with this. In your last lesson, ask them to go through a bonnet check with you. You may be asked to locate the following:
Engine Coolant Reservoir

Engine Oil Level

Brake Fluid Reservoir

Windscreen Washer Fluid Level
Along with the location, you could be asked how to check each level. It may be a visual check, or you may have to use a dipstick to see if the level is between minimum and maximum, such is the case with the engine oil level. You don't have to perform it. You simply explain the process.
6. Arrive Early at the Test Centre
You should arrive at the test centre early, so you are not under pressure or worrying about times. You should wear comfortable clothing and proper shoes. Flip-flops will not do and may result in failure. We recommend driving around the area before your test to eliminate any nerves. If you can do a pre-test before, do so, and you'll be fully prepared for the driving test.
7. Be Observant
Driving inspectors will want you to be observant, so constantly looking around you and using your three mirrors.
Be prepared for sudden movements from other drivers, and be aware of your surroundings.
Ensure you don't miss a stop sign, red light, etc. Match your driving to suit the conditions such as weather, road and traffic. 
8. Keep Your Distance
It is recommended to keep your distance from the car in front of you. You should leave at least 2 seconds between you. Keep up with traffic and don't leave too big a gap. You must be seen to make progress on the road, so do not hold cars up by leaving too much space.
9. Be Careful with Your Driving Style
Be extra careful with your driving style during the driving test. Do not coast on the clutch inspectors do not like seeing it. Excessive coasting can cause you to fail the test as it can be hazardous. Do not rest your hand on the gear stick. It's a bad habit that your inspector will mark you on.
10. Don't Worry if You Make a Mistake
Mistakes are normal during a driving test. Nobody is perfect, and with nerves may come small mistakes. Don't be hard on yourself. They are typically not as bad as you think. You should keep driving with confidence for the rest of the driving test.
If you fail the driving test, it's not the end of the world. You may re-sit in a few weeks, and you will know what to expect the next time. You may not have as many nerves the second time too. Just take the mistakes you made on board and see how you can rectify them for your next test.
If you pass your test, switch to KennCo Insurance for a great car quote. Get an online quote in a matter of minutes.