Keep your Home Safe this Halloween
Halloween dates back to the ancient Celtic festival of Samhain. It was an important fire festival, celebrated over the 31st October and 1st November. The flames of the fires had to be extinguished and ceremonially re-lit by druids. It was believed that the spirits were thought to revisit and all kinds of ghosts, goblins, witches and demons were believed to be roaming about.  It was celebrated like New Year's Day in that it carried the notion of casting out the old and moving into the new.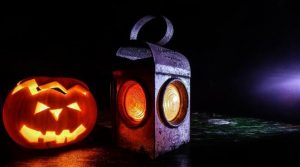 Over the years, Halloween has transformed to be the second biggest festive holiday after Christmas.  Traditional activities include trick-or-treating, costume parties, carving pumpkins and lighting bonfires.
Halloween should be a fun time for children and adults however Fireworks and fires have become a big concern over the years. Every year Dublin Fire, Emergency Ambulance and Rescue Service answer over 1,000 calls over the Halloween period.
KennCo Insurance has provided an effective guide to reduce and eliminate the increased risk of hazards and fire damage during the Halloween period. 
Avoid candles and live flames in your Halloween decorations. 

A lot of Halloween decorations are made of paper and plastic so they can be highly flammable.

Keep decorations away from any lights or heaters. 
If you are putting up Halloween lights make sure that all cables are put out of reach of children.
Animals can be easily frightened on Halloween so make sure your pets are kept inside and away from the front door when possible.
Make sure the front of your home is well lit up. 

Replace any old bulbs to ensure good visibility at the front door. 

Keep lit up pumpkins away from children and doorways to avoid tipping over or catching fire to children's costumes.

Slow down while driving and be extremely alert in residential areas. Children will be trick-or-treating and may cross roads in unpredictable ways.

Avoid using Fireworks, they are illegal and extremely dangerous.
It is really important that your home has the correct type of cover in the event of a Halloween hazard. If you are looking for house insurance, why not contact us on 0818 25 20 25 to discuss your options or click on our quick quote section to get a quote now!