Are you a Podcast Addict? My addition currently sits with true crime pods like Serial, My Favourite Murder, Criminal and West Cork (The gripping Sophie Toscan du Plantier murder mystery) there is almost too much choice! If like me you are a bit of a chicken but love a good scare, after listening to too many of these stories you start to pay much more attention to your safety! Starting with you and your home. Are all the doors and windows secure? Especially while in bed with the earphone tips jammed into the ear canal!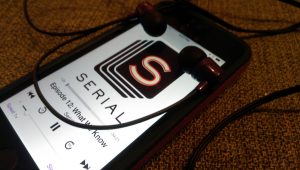 Well here's a few tips on how to keep you and your home safe:
Install light timers front and back of your home – don't get freaked out if you have a pet though!
Review your home alarm system – if you don't have it check how much extra is it to have a security-call-out service? Shop around.
Keep the outside of your home tidy – looking like someone is always home and your neighbours will hate you if you don't.
Have home insurance that covers your home sufficiently!
Finally, if you are in the house alone start talking loudly now and again and say goodbye to that "pretend" person when leaving the house. The neighbours will think you are cracked but it might just deter a would-be thief or worse!
Check out these Podcasts that give some good tips:
RTE Radios Colm Hayes Home Security Podcast
Episode 227 of The Preparedness Podcast – this podcast in general covers everything from the Ebola threat to keeping your family safe and secure.
There are many many more just do some browsing
If your like us and can't stop listening to podcasts and watching documentaries, even though they keep you up at night, then the below lists are our current favorites.
Top Netflix Documentaries
With the incredible rise of popularity of Netflix over the past few years, documentaries have become one of the most binge-worthy and captivating shows on everyone's radar. Here are our top 5 Netflix documentaries at the moment (Jan 2019):
Abducted in plain sight
Fyre: The Greatest Party That Never Happened
The Innocent Man
Top Podcasts
Whether its crime pods you want or some motivational/feel good listening, we have you covered.
Caliphate
Dirty John
Oprah's Super Soul
Under the skin
Home insurance gives you peace of mind and added security to calm your nerves if you have been listening to any horror stories or podcasts like we have lately! Call us on 0818252025 for a quote over the phone or fill out our Home Quote Here!