The Celtic Tiger years, allied to European funding, provided significant improvements to the primary routes connecting regions, towns and cities the length and breath of Ireland, with new motorways (including the dreaded tolls),  and enhanced infrastructure which facilitates the movement of goods and services, which in turn attracts external investment and jobs. Since the beginning of the economic downturn, there has been far less money devoted to maintaining roads, particularly country roads, which has resulted in deterioration in many rural areas.
The end result is that you can experience excellent driving conditions on national routes, while suffering uneven, pot-holed surfaces on minor roads, sometimes resulting in damage to wheels and tyres, as well as taxing the car's suspension.
While we can't do much about bad roads, how do we fare in terms of our own driving? The Garda traffic statistics from 2014 indicate that we could do much better. The following table shows worrying trends across a spectrum of different traffic offences.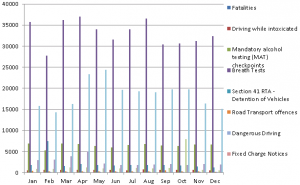 In 2001 the Garda Road Safety Unit was formed. The Road Safety Unit's overall aim is the reduction of road deaths and serious injuries and the improvement of road safety generally. Less road traffic accidents and RTA convictions will reduce Insurance premiums.
We all have a responsibility to make our roads safer, not just for ourselves but for all road users.