As the summer enters its final stage, many families will be getting ready for the back to school preparation over the coming weeks. It has been mentioned by the ILCU that the majority of back to school costs are putting a financial burden on parents and/or guardians. Primary school children will cost roughly €950 to send to school in 2019 while secondary school children will cost a significantly higher amount of €1,400 to prepare for the new year of school.    
To help with the back to school costs we try to lighten the burden on families and customers through our KennCo Insurance back to school competition every year. This year we have decided to add a second back to school competition. The first competition is running from July 25th to August 15th with a prize of a €100 voucher for your local bookshop or local uniform shop of your choice. The second competition is for 4 back to school schoolbags filled with the essentials and is running from July 30th – August 15th.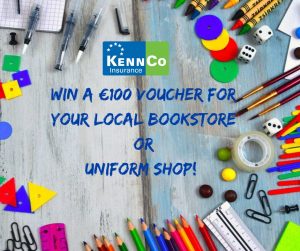 To be in with a chance of winning you can enter via our Facebook page by following the instructions and commenting on each of the competition posts. Winners will be contacted on August 16th via the profile they used to enter the competition. Terms and conditions can be read here.
Best of luck 📚